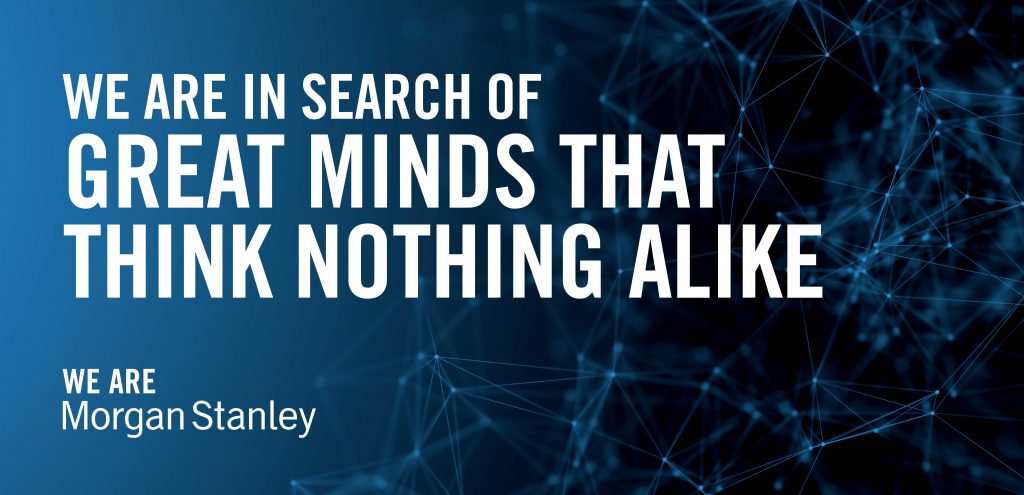 Introduction
Morgan Stanley is a global financial services firm and a market leader in investment banking, securities, investment management and wealth management services. At Morgan Stanley Budapest, we are shaping the future of our global business and contributing to our local community. Our team works across numerous areas, including Technology, Mathematical Modeling, Finance, Risk Management, Operations and Data & Analytics from our new state-of-the-art offices near the Danube and our City Gate office in the heart of the city centre.
Our Story
We are defined by our people, our founders, our company veterans and our newest recruits. We draw on the strength of their diverse talents and perspectives, generating growth for our clients in ways that are forward-thinking and sustainable. We collaborate across departments and our global network of offices to deliver exceptional ideas and solutions to the world's most complex challenges. We stand on 80 years of thoughtful investing, our rich heritage shaping our vision for the future. As companies and institutions grow, we are partners to them, making sure they prosper. And, as individuals progress through their lives, we meet them at each important step so they can go forward with stability and confidence. We are Morgan Stanley.
Social media
YouTube: https://www.youtube.com/morganstanley
Instagram: https://instagram.com/morgan.stanley
Twitter: https://www.twitter.com/morganstanley
Facebook: https://www.facebook.com/morganstanley
Experience Morgan Stanley Budapest
Who We Are at Morgan Stanley
Morgan Stanley is committed to conducting business in accordance with the highest standards of integrity and transparency, and does not intend for this invitation to influence, or provide an unfair advantage regarding, any action or decision by yourself or any other attendee with respect to Morgan Stanley.
In accordance with legal and regulatory requirements, including the U.S. Foreign Corrupt Practices Act, the UK Bribery Act, the Employee Retirement Income Security Act, and other U.S. federal, state and local regulations, Morgan Stanley does not provide its clients or business associates gifts or entertainment that they are not allowed to accept. We recognize that our clients, counterparties and other business associates also have legal obligations and may be subject to specific threshold and reporting requirements. By accepting this invitation you confirm that the above proposal conforms with the laws to which you are subject, as well as your organization's own policies and standards. If you require a confirmation of the total value of this event, or are required to reimburse Morgan Stanley for particular expenditures, please contact us.
Please note that you may subsequently be contacted by Morgan Stanley for additional confirmations regarding the acceptability of particular expenses that we may cover.
To commemorate this event, the Firm may take photographs and/or video that include participants. By accepting this invitation you confirm the following: I hereby grant permission for Morgan Stanley and its affiliates to use, record, reproduce, distribute and display my name, image, photographic likeness, and/or voice in any medium, printed or electronic (including in video form), for marketing materials and coverage relating to this event. I hereby release Morgan Stanley and its affiliates and agents from any and all claims that relate to or arise from any use of the foregoing in such materials and coverage.