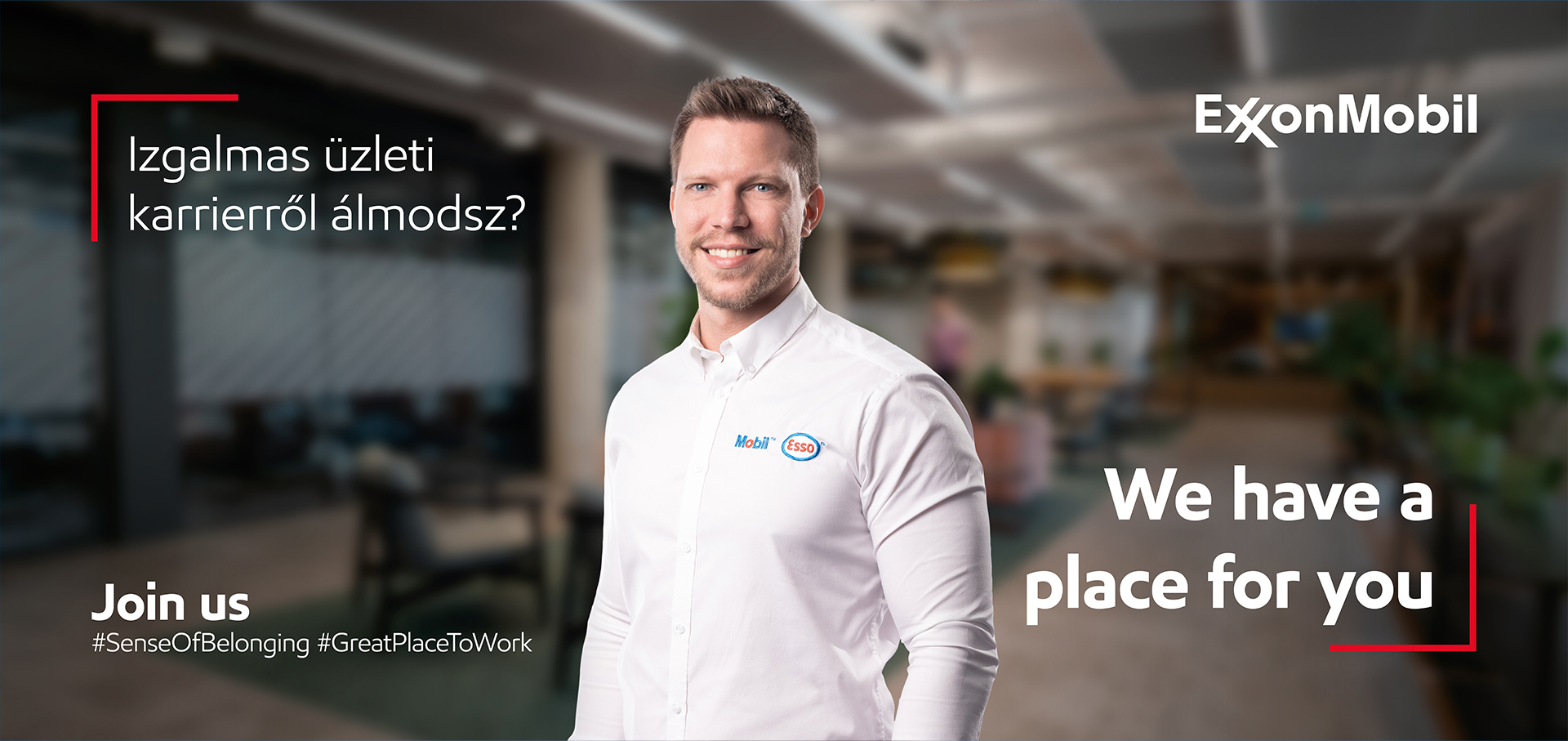 Leírás
ExxonMobil's Global Business Center in Budapest is an integral part of our European fuels business in retail, commercial and trading channels. The scale of our business provides unparalleled opportunities for a diverse, rewarding and challenging career in a truly international setting through a combination of work assignments, on-the-job experiences, focused training and education.
If you are a university student in the final year of your studies in supply chain management and you are looking for completing paid internship in a truly international environment at a company ranked among the top companies on global Fortune100 then join ExxonMobil and complete a 6-month internship with us in Budapest.
We guarantee a rich learning experience and opportunity to build commercial acumen, observe and participate in business operations and decision making, and develop a solid work ethic that all will improve you competitiveness in the labor market.
We are opening internship positions in:
Marine Claims Analyst: Analyze, calculate, negotiate and settle marine demurrage and oil loss claim with customers and suppliers, in line with applicable terms and conditions of the contract.
WHAT YOU WILL DO
At the start of your journey with us, we will identify an appealing and specific position you will take either Marketing, Sales, Logistics, Customer Services, Finance, Data Analytics, Trading or in the field of Low Carbon Solutions.
You will learn more about it during the interview process and we will ensure that you do not jump into the unknown.
In the first week you will
Get computer and accesses, and complete mandatory trainings.
Work to get up to speed how the organization runs, what the team does, core KPI's and challenges.
Align with your supervisor on personal and business objectives for the internship.
In the first month you will
Learn the job and start contributing with minimal guidance
Understand how his/her team interacts with other teams
In the second months you will
Have a solid understanding of assigned roles and responsibilities, and contribute independently.
Start identifying optimization opportunities, agree on measurable goals for the internship.
Agree with the supervisor on a specific project you have to deliver or contribute to.
In the period 3-5 months you will
Continue to perform base job responsibilities
Deliver the project assignment.
Prepare for your learning debrief that you have to deliver in front of your supervisor and members of the senior leadership team.
Subject to your performance, aspiration and learning progress you will learn more about potential further opportunities at ExxonMobil
In the last month you will
Conclude your project assignment and transition base job responsibilities to another staff member.
ABOUT YOU: SKILLS AND QUALIFICATIONS
Enrolled in final year of your BSc, BA or MSc degrees in supply chain management.
Eligible to work in Hungary, valid work permit or student visa valid for at least 8 months.
Full professional proficiency in English. Working level proficiency in Dutch, French, German, Norwegian, or Italian is an advantage.
Open minded approach, eager and capable of learning new skills.
Willing to choose action over inaction when faced with uncertainty.
Analytical skills.
Ability to work independently and in teams alike, be a self-starter.
Good communication, collaboration, and coordination skills.
YOUR BENEFITS
An ExxonMobil career is one designed to last. Our commitment to you runs deep: our employees grow personally and professionally, with benefits built on our core categories of health, security, finance, and life. ExxonMobil Hungary offers a variety of benefits to support and protect your health and financial wellbeing.
Interesting work in an international environment
Opportunity to receive a full-time job offer in case of a successful 6 months term internship
Daily contact with international counterparties
Opportunities for job specific and broader career development trainings
Opportunities to develop experience in the organization
Opportunities to enhance communication and language skills, job specific and broader trainings, mentoring, self-development opportunities, tuition assistance program supporting studies with business relevance
ExxonMobil
At ExxonMobil, our vision is to lead in energy innovations that advance modern living and a net-zero future. As one of the world's largest publicly traded energy and chemical companies, we are powered by a unique and diverse workforce fueled by the pride in what we do and what we stand for.
The success of our Upstream, Product Solutions and Low Carbon Solutions businesses is the result of the talent, curiosity and drive of our people. They bring solutions every day to optimize our strategy in energy, chemicals, lubricants and lower-emissions technologies.
We invite you to bring your ideas to ExxonMobil to help create sustainable solutions that improve quality of life and meet society's evolving needs. Learn more about our What and our Why and how we can work together.
Our Global Business Center (GBC) in Budapest was established in 2004. Our diverse and multinational workforce of ~2,000 fellow colleagues has been powering ExxonMobil's global businesses ever since. We are proud to work in an inclusive, safe, and vibrant work environment and we are aiming to provide an exciting, long term career to all our employees. We develop together, we grow together. Proudly awarded as Responsible employer of the year and received HRKomm award for Diverse workplace and award for Ergonomic program.