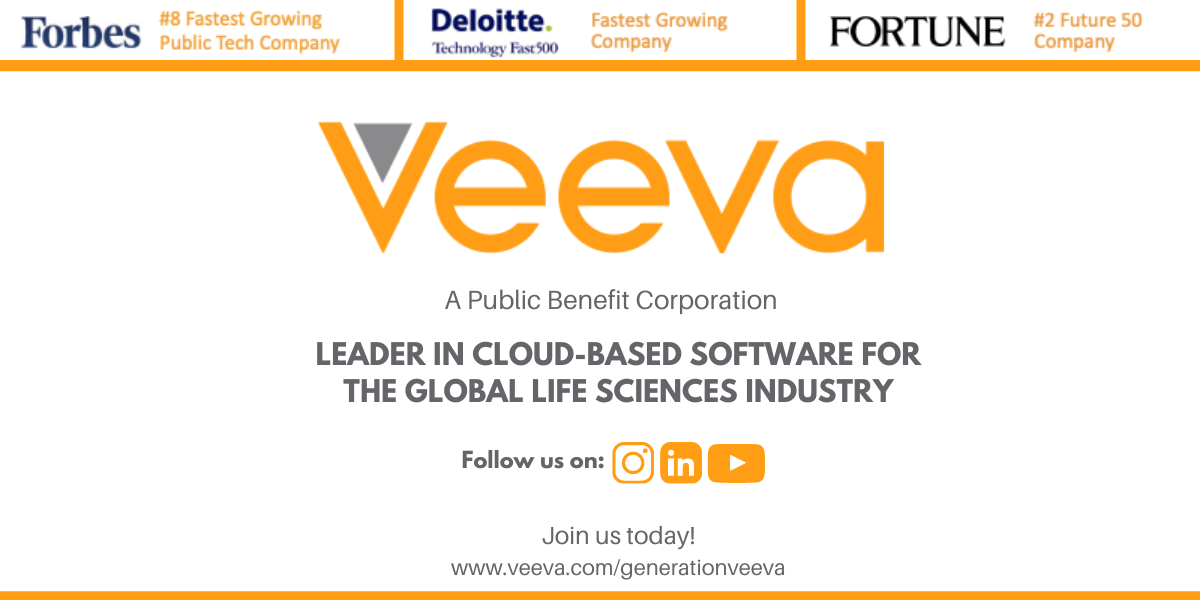 Leírás
Join us as an Associate Consultant in our Consultant Development Program. The role is specifically designed for fresh graduates who are interested in learning more about cloud-based software solutions and technical consultancy (no coding skills required!). You will be developing your technical and soft skills helping you grow into a subject matter expert at Veeva. You will build Consulting skills, Application Functional and Technical proficiency, and knowledge of the Life Sciences Industry.  If you have a passion for how technology can improve industries that impact our everyday lives, this may be the job for you!
Working on cross-European projects with a diverse team of over 16 different nationalities, you will gain exposure to one of the fastest-growing cloud software companies that service some of the world's largest corporations.
What You'll Do
Work as part of a project team and collaborate with experienced Senior Consultants and Project Managers
Learn technical consulting, software solution design, industry business processes and project management skills
Participate in business process discovery workshops with customers, gather requirements and support fit/gap analysis
Configure (tailor) Veeva products to match customer needs under the guidance of experienced Solution Architects
Help with building and testing the solution, training customers and final deployment
Create documentation of system requirements and design to help complete successful implementations
Explain solutions to a variety of audiences and provide subject matter expertise on Veeva applications and technical design
Guide customer project teams to apply business and technical best practices
Requirements
University Degree (BA, BS or BBA Degree) with strong performance
Don't have a university degree? That's OK if you have the equivalent skills gained through work experience or disciplined self-study
Fluent in English
Ability to manage time in person and remotely, prioritize and meet deadlines
Desire to work in an intense, fast-paced environment
Excellent verbal and written communication skills Proven analytical skills
Ability to take business and technical concepts and express them as potential solution designs
Interest and/or experience working with software
Passion to use technology to make business processes more efficient
Experience with MS Office (PowerPoint, Excel, Visio)
Nice to Have
Fluency in another European language (German, French, Italian)
Degree in Business/Management Information Systems, Software Engineering, Biomed/biochem Engineering, Mechanical Engineering, Life Sciences field or other similar degrees/work experience
An internship or experience with a pharma company
Community involvement or organizational leadership experience
Teaching experience such as working as a tutor, classroom assistant/TA
Programming experience or knowledge of Relational Database concepts
CRM System Knowledge (Salesforce preferred) and/or Document Management Systems
Perks & Benefits
Cafeteria
Private Medical Insurance
Allocations for continuous learning & development
Health & wellness programs
Veeva charitable giving program
Free lunch on Tuesdays
Veeva Systems
When you join Veeva, you become part of a global company whose culture celebrates the diversity of people and ideas. We know everyone has different interests, lifestyles, and ways of learning and we do our best to support all employees.
Veeva Systems Inc. is a leader in cloud-based software for the global life sciences industry. Committed to innovation, product excellence, and customer success, Veeva has more than 900+ customers, ranging from the world's largest pharmaceutical companies to emerging biotechs. Veeva is headquartered in the San Francisco Bay Area, with offices in Canada, Europe, Asia, and Latin America.  Veeva currently has around 5000 employees is growing to 10,000 employees by 2025!
We are proud to say that in February 2021, Veeva became the first public company to convert to Public Benefit Corporation (PBC).
A key technology partner to the life sciences industry, Veeva is dedicated to customers' mission to advance human health and wellbeing. This move aligns Veeva's legal charter with this broader mission and the company's core values, including do the right thing, customer success, and employee success.