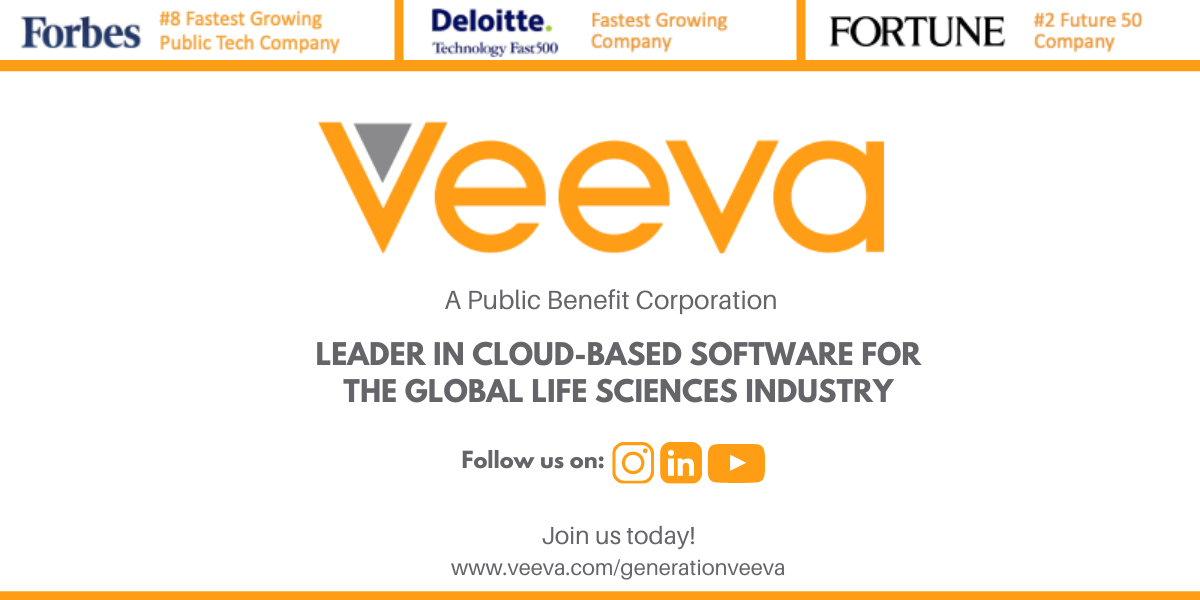 Leírás
Join us as a Technology Consulting Intern, part of our global Consultant Development Program, working together with our experienced Consulting teams. The role is specifically designed for last year Bachelor or Master's students who are interested in learning more about cloud-based software solutions, Life Sciences, and technology consulting (no coding skills required!).
You will work as part of a program team for one of the Global Top20 Pharmas to continuously innovate with Veeva in an 'ongoing project' mode after their initial software implementation is completed. You will learn about a variety of Veeva software applications and how they are used by leading Life Sciences companies, you will build your knowledge of industry business processes and you will strengthen your soft skills.
This internship has a duration of 6 months (20 hours per week) and provides the opportunity to pursue a full-time Associate Consultant position after graduating from University.
Qualified candidates must be legally authorized to be employed in the European Union. Veeva does not provide sponsorship for employment visas for this position.
What You'll Do
Work as part of a project team and collaborate with experienced Senior Consultants and Project Managers
Learn technology consulting, software solution design, industry business processes, and time management skills
Configure (tailor) Veeva products to match customer needs under the guidance of experienced Solution Architects
Help with analyzing configuration requests from customers and demonstrating new functionality to customers
Create documentation of system requirements, customer requirements, and design changes
Support Data Migration and System Testing tasks to ensure successful customer deployments
Support creation of reports & analytics for customer projects
Explain solutions to a variety of audiences and provide subject matter expertise on Veeva applications and technical design
Requirements
Currently pursuing a University Degree (Bachelor or Master) and in the final year of your studies
Strong academic performance
Ability to commit to 20h/week during core business hours
Fluent in English
Ability to manage time in person and remotely, prioritize and meet deadlines
Desire to work in an intense, fast-paced environment
Excellent verbal and written communication skills
Proven analytical skills
Ability to take business and technical concepts and express them as potential solution designs
Interest and/or experience working with software
Passion to use technology to make business processes more efficient
Experience with MS Office (PowerPoint, Excel, Visio)
Interest in pursuing an Associate Consultant role full-time post-graduation
Nice to Have
Fluency in another European language (German, French, Italian)
Degree in Business/Management Information Systems, Software Engineering, Biomed/biochem Engineering, Mechanical Engineering, Life Sciences field or other similar degrees/work experience
An internship or experience with a pharma company
Community involvement or organizational leadership experience
Teaching experience such as working as a tutor, classroom assistant/TA
Programming experience or knowledge of Relational Database concepts
Veeva's headquarters is located in the San Francisco Bay Area with offices in more than 15 countries around the world.
Veeva is committed to fostering a culture of inclusion and growing a diverse workforce. Diversity makes us stronger. It comes in many forms. Gender, race, ethnicity, religion, politics, sexual orientation, age, disability and life experience shape us all into unique individuals. We value people for the individuals they are and the contributions they can bring to our teams.
Veeva Systems
When you join Veeva, you become part of a global company whose culture celebrates the diversity of people and ideas. We know everyone has different interests, lifestyles, and ways of learning and we do our best to support all employees.
Veeva Systems Inc. is a leader in cloud-based software for the global life sciences industry. Committed to innovation, product excellence, and customer success, Veeva has more than 900+ customers, ranging from the world's largest pharmaceutical companies to emerging biotechs. Veeva is headquartered in the San Francisco Bay Area, with offices in Canada, Europe, Asia, and Latin America.  Veeva currently has around 5000 employees is growing to 10,000 employees by 2025!
We are proud to say that in February 2021, Veeva became the first public company to convert to Public Benefit Corporation (PBC).
A key technology partner to the life sciences industry, Veeva is dedicated to customers' mission to advance human health and wellbeing. This move aligns Veeva's legal charter with this broader mission and the company's core values, including do the right thing, customer success, and employee success.