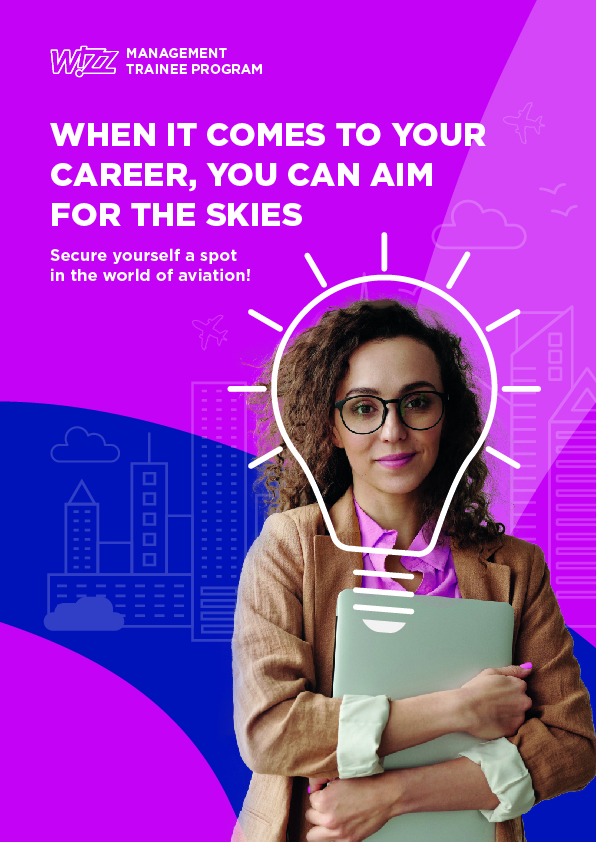 Leírás
1st half a year of Traineeship – CUSTOMER EXPERIENCE DEPARTMENT:
The mission of CX department is to bring back customer certainty in travel, meet and exceed customer expectations during the entire customer journey by placing customers in the center of everything we do, with special focus on digital touchpoints, end to end seamless journey.
RESPONSIBILITIES
Synchronize and develop a unified view and automated dashboard for Customer Satisfaction Survey results for all contact center channels (calls, claims and chat) in order to support and facilitate insights and improve decision making.
Transform contact centre traffic forecasting approach based on existing 3 months rolling base volume forecast into a real time view dashboard of expected short/mid-term volumes.
Build and deploy indictor panel which would execute actual and forecasted costs for timely and automated revisions to have an always updated budget outlook.
Ad hoc short sprint projects (30% of time) to support CX department in weekly/monthly assignments; assist in cross functional partnerships with the area of responsibility and oversight.
2nd half a year of Traineeship – CORPORATE COMMUNICATIONS DEPARTMENT:
The mission of Corporate Communications department is to shape the opinion of key stakeholders about Wizz Air (general public via journalists, financial market, current and potential employees). Create a friendly image which people can create to by effectively thematizing the media and the industry, and become a trusted advisor.
RESPONSIBILITIES
Leverage WIZZ Ambassadors (pilots and cabin crew) on social media to support Employer Branding projects.
Create ideas for at least one series of entertaining content for WIZZ Social Media platforms (Facebook, Instagram, TikTok), one series per one channel, via collaborating with creative agency.
Create an automated dashboard and/or reporting from Talkwalker reports supporting business decisions making and brand activation projects.
Develop solutions for site development of WIZZ Port intranet channel (structure, main page) to achieve a scalable and automated platform
3rd half a year of Traineeship – RETAIL (ONBOARD SALES) DEPARTMENT:
The mission of Retail is to maximize WIZZ onboard sales and be the main contributor for the ancillary revenue by establishing a competitive onboard product proposition through the implementation of a digital ecosystem, creating a distinctive onboard Retail brand and ensuring a robust supply chain.
RESPONSIBILITIES
Support upcoming onboard sales retail tender planned for 2023 (data collection from other WIZZ departments, data consolidation, editing, proofreading, etc)
Do competitor benchmarking and best practices collection about airline onboard sales services in Europe/Global
Create Power BI dashboards or other automated reports about the retail business results (onboard sales), helping business analysis and decision making process internally.
4th half a year of Traineeship – MARKETING DEPARTMENT:
The mission of Marketing department is to initiate customer acquisition and create and drive the unified WIZZ brand that distinctively identifies us and increases customer value.
RESPONSIBILITIES
Develop insights to be used for creative development for owned channels (web, app, newsletter, social media) based on social listening data.
Assist to marketing collaborations with airports, tourism boards as well as coordinate partnerships with micro- and mid-sized influencers by writing brief, reviewing produced content and maximize collaboration with contests and other activations. Create processes and systems to ensure Airport and Tourism Board cooperation are scalable for growth without adding more resources.
Assist the launch of a scalable and digital brand asset management platform (supporting the Brand Manager).
Carry out small-scale focused researches on specific ancillary products and other areas, including survey setup and data analysis (supporting Customer Insights & Research manager).
Collaborate with Google on improving Google Flight Demand Explorer data for Wizz Air and develop insights from Flight Demand Explorer as input to the Network and Commercial teams.
Required Skills and Competencies:
English fluency
Graduating within 2 years from university
Strong Microsoft Excel or BI skills, experience of working with large data and Google workspace is a plus
Look at WIZZ as career opportunity, not just a job
Cross-functional interests
Enthusiastic about the world of aviation
Eagerness to challenge, learn and grow
Self-motivated and good working in a team
Flexible and adaptable
Work management (video conferencing, calendar management, meeting management, email correspondence)
Wizz Air Hungary Ltd.
Wizz Air is the fastest growing and greenest European low-cost airline, operating a fleet of 134 Airbus A320 and A321 aircraft. A team of dedicated aviation professionals delivers superior service and very low fares, making Wizz Air the preferred choice of 40 million passengers in the financial year F20 ending 31 March 2020. Wizz Air is listed on the London Stock Exchange under the ticker WIZZ. The company was recently named one of the world's top ten safest airlines by airlineratings.com, the world's only safety and product rating agency, and 2020 Airline of the Year by ATW, the most coveted honour an airline or individual can receive, recognizing individuals and organizations that have distinguished themselves through outstanding performance, innovation, and superior service.