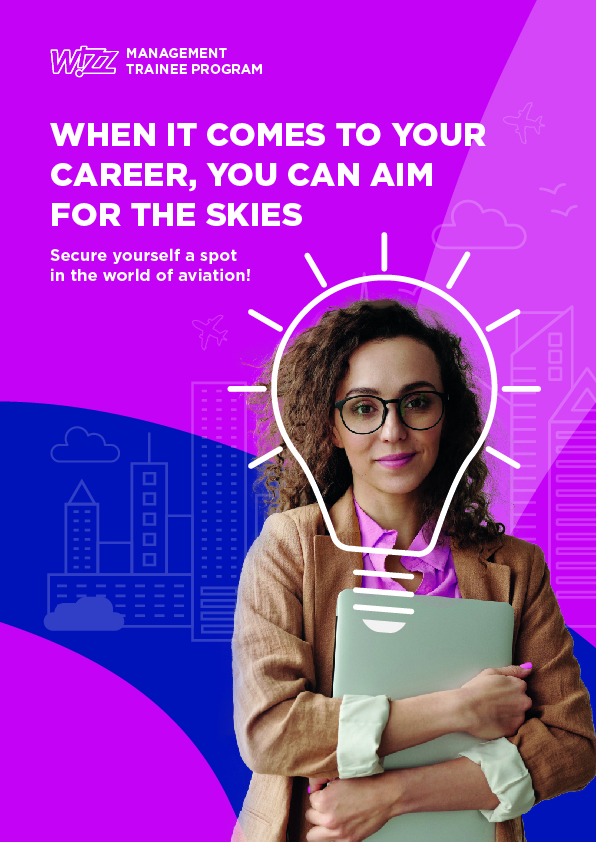 Leírás
1st half a year of Traineeship – recruitment DEPARTMENT:
The Recruitment Team is responsible for the overall recruiting and sourcing mission, vision, and long-term strategy of Wizz Air, as well as for hiring top talent in a timely, efficient & cost-effective manner while promoting diverse & inclusive hiring practices.
RESPONSIBILITIES
Fine-tune and develop employer brand key messages
Coordinate the implementation and re-design of the new career website
Understand the key recruitment processes, identify gaps and possibilities for process improvement
Automation/digitalization of the recruitment reporting
Support the Recruitment/Assessment events by preparation, organization, logistics and follow up
2nd half a year of Traineeship – organization development DEPARTMENT:
The Organization Development Team is owning and responsible for developing, implementing and running key compensation, talent and organization development projects and processes. The team has a key role in delivering value to the Company through strategic people and organization development processes.
RESPONSIBILITIES
Coordinate the implementation of the digital Onboarding Platform and Employee Portal for new joiners of the company
Support the existing onboarding, talent and training programs by preparation, organization, logistics and follow up
Review compensation trends and support the annual salary benchmark analysis to evaluate external competitiveness and internal satisfaction and efficiency of the reward programs for Cabin Crew, Flight Crew and Office employees
3rd half a year of Traineeship – HR DEPARTMENT:
HR is responsible for the employee lifecycle. Contracting, HR systems, labor compliance, relocation, immigration, payroll, taxation, employee queries.
HR will move to a new organization which will be built on standardized processes and functional domains. In the same time, several automation projects are happening in order to be ready for a scalable organization which is supporting the WIZZ500 strategic ambition.
RESPONSIBILITIES
Understanding the work of each functional domains in HR (systems and automation, relocation, contracting, payroll, business support and labor and compliance
Supporting the automation / digitalization related projects
Working on automated KPIs, dashboards
Supporting employee communication
Upcoming with new ideas, recommendations
Challenge the status quo
4th half a year of Traineeship – government and public affairs DEPARTMENTS:
WIZZ500 represents such a growth ambition that Wizz Air could easily shape the whole industry in Europe and beyond. The aim of the department is to protect the interest and support the growth of Wizz Air in the changing regulatory environment, be a thought leader in sustainability and lead the debate at EU and key countries.
RESPONSIBILITIES
Support sustainability and ESG initiatives
Understand European Union (e.g. Green Deal) and country specific sustainability and climate change regulation and development
Contribute to influencing strategies and position papers
Monitor the progress of sustainability KPIs of other departments
Support annual emissions data collection and input to sustainability report
Working on the digitalization of the department (stakeholder management tool)
Required Skills and Competencies:
English fluency
Graduating within 2 years from university
Strong Microsoft Excel skills, Power BI, Analytical competence
Look at WIZZ as career opportunity, not just a job
Cross-functional interests
Enthusiastic about the world of aviation
Eagerness to challenge, learn and grow
Self-motivated and good working in a team
Flexible and adaptable
Highly analytical, technical, creative and forward-thinking
Wizz Air Hungary Ltd.
Wizz Air is the fastest growing and greenest European low-cost airline, operating a fleet of 134 Airbus A320 and A321 aircraft. A team of dedicated aviation professionals delivers superior service and very low fares, making Wizz Air the preferred choice of 40 million passengers in the financial year FY20 ending 31 March 2020. Wizz Air is listed on the London Stock Exchange under the ticker WIZZ. The company was recently named one of the world's top ten safest airlines by airlineratings.com, the world's only safety and product rating agency, and 2020 Airline of the Year by ATW, the most coveted honour an airline or individual can receive, recognizing individuals and organizations that have distinguished themselves through outstanding performance, innovation, and superior service.