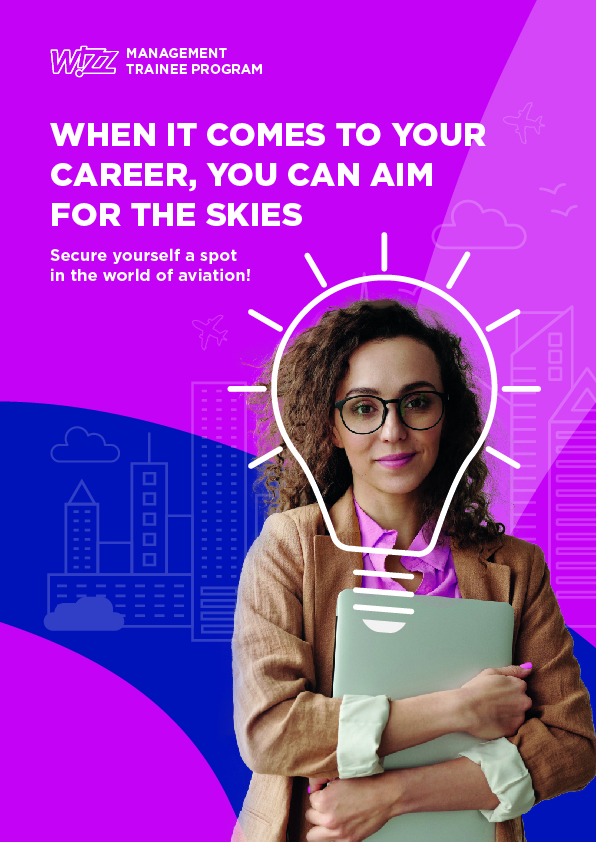 Leírás
1st half a year of Traineeship – PURCHASING DEPARTMENT:
RESPONSIBILITIES
Understanding of the ULCC model, high level of understanding of aviation industry
Administrative tasks connected to contracting, contract inventory, invoice control, tender requisitioning
Daily support of purchasing managers
Basic contracting knowledge, training
Bid assessment techniques
Basic communication and negotiation techniques
Introduction into model and simulation building
Introduction message-driven presentation building
Problem solving techniques
Supporting projects/tenders with the supervision of the department head and/or managers
2nd half a year of Traineeship – FLEET ACQUISITION DEPARTMENT:
RESPONSIBILITIES
Understand economic principles about fleet acquisition and financing
Participate in process improvement projects related to fleet management and financing, lead selected projects/ initiatives
Participate in invoice control, cash and Letter of credit management processes related to aircraft leasing contracts
Learn and develop basic financial models to evaluate aircraft financing transactions and cash-flows related to aircraft and major component purchases
Participate in meetings with aircraft financiers and OEMs to develop negotiation skills and gain market insights
Carry out administrative & system tasks related to fleet contracts and contract inventory
Reporting tasks to selected OEMs related to utilization and fleet plan changes
3rd half a year of Traineeship – Airport development DEPARTMENT:
RESPONSIBILITIES
Gather market intelligence from the field for the rest of the organization: competitive entries/exits, market news, etc.
Build negotiation skills by attending meetings with various stakeholders alongside the Airport Development managers and the Head of Airport development
Support managers with administrative tasks related to contracting, contract inventory and invoice control
Prepare monthly, quarterly and yearly marketing reports for partners
Prepare statistics on traffic development at airports
Monitor contractual obligations of existing deals
Support automatization tasks and performing system testing
4th half a year of Traineeship – Legal DEPARTMENT:
RESPONSIBILITIES
Participate in contract negotiation meetings
Basic support on contract drafting (e.g. proof reading)
Support on evidence collection in context of litigation and authority investigations
Support on transaction execution (most importantly on Fleet)
Carry out various administrative tasks
Supporting the team on various process related tasks (process mapping and improvement)
Support on budget control and potential tendering of external legal support
Support on basic corporate legal tasks
Required Skills and Competencies:
English fluency
Graduating within 2 years from university
Strong Microsoft Excel or BI skills, experience of working with large data is a plus
Look at WIZZ as career opportunity, not just a job
Cross-functional interests
Enthusiastic about the world of aviation
Eagerness to challenge, learn and grow
Self-motivated and good working in a team
Flexible and adaptable
Highly analytical, technical, creative and forward-thinking
Wizz Air Hungary Ltd.
Wizz Air is the fastest growing and greenest European low-cost airline, operating a fleet of 134 Airbus A320 and A321 aircraft. A team of dedicated aviation professionals delivers superior service and very low fares, making Wizz Air the preferred choice of 40 million passengers in the financial year FY20 ending 31 March 2020. Wizz Air is listed on the London Stock Exchange under the ticker WIZZ. The company was recently named one of the world's top ten safest airlines by airlineratings.com, the world's only safety and product rating agency, and 2020 Airline of the Year by ATW, the most coveted honor an airline or individual can receive, recognizing individuals and organizations that have distinguished themselves through outstanding performance, innovation, and superior service.