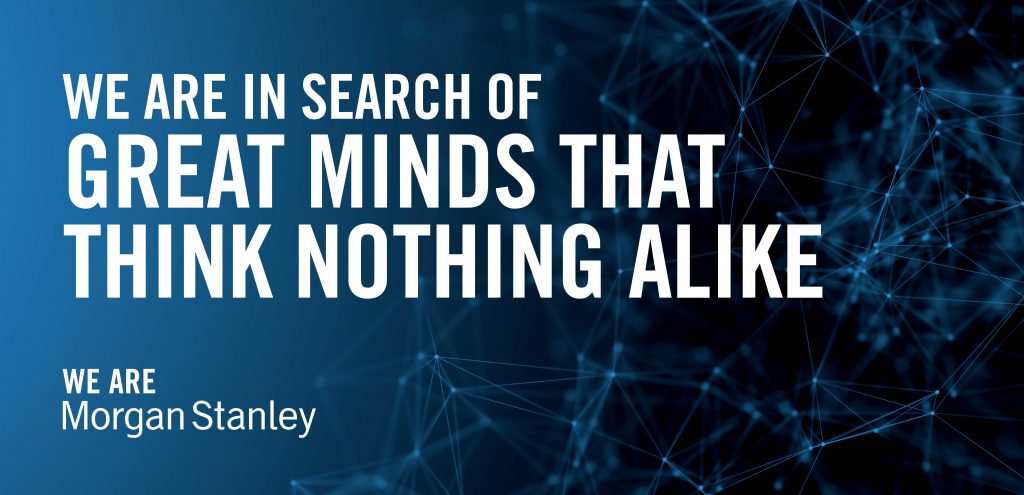 Morgan Stanley Virtual Open Days
Virtuális Tech Nyílt nap
Regisztrálj ingyenes nyílt napunkra és mi lehetőséget biztosítunk arra, hogy bepillants a Morgan Stanley életébe anélkül, hogy kilépnél a lakásból! Az előadások után neked is lehetőséged nyílik kérdezni az előadóktól. Ha érdekel, hogyan tudnál felkészülni az állásinterjúdra, csatlakozz hozzánk november 4-én!
Dátum: 2020. november 4. szerda
Időpont: 14:00-16:00
Helyszín: Zoom (a linket a visszaigazoló email-ben küldjük el.)
Jelentkezési határidő: 2020. november 3. kedd
Program:
14:00-14:15 – Köszöntés – Nagy László
14:15-14:45 – Szakmai előadás
14:45-15:15 – Panelbeszélgetés
15:15-15:45 – Tippek és tanácsadás, hogyan készülj fel az állásinterjúdra pályakezdőként – Varga Hajnalka
15:45-16:00 – Gyakornoki és pályakezdő lehetőségek bemutatása
A részvétel ingyenes, de regisztrációhoz kötött.
Virtual Quantitative Open day
Great Minds Don't Always Think Alike
Date: Tuesday, November 17 2020
Time: 2:00 pm – 4:00 pm
Venue: Zoom
Application Deadline: Monday, November 16 2020
Join us for our Virtual Quantitative Open Day to find out who we are! Quantitative professionals play a vital role in responding to worldwide financial markets which brings new exciting challenges each day.
If you have a background or interest in Quantitative Finance, Economics, Mathematics, Statistics, Physics or Engineering and would like to discover more about a day in the life of a Morgan Stanley Quantitative Team, register below!

Program
Introduction to our Quant-related Areas
Campus Opportunities
Panel Discussion
Networking
Virtual Finance and Risk Management Open Day
Date: Tuesday, November 10, 2020
Time: 2:00 pm – 4:00 pm
Venue: Zoom
Application deadline: Monday, November 9, 2020
We are searching for great minds that think nothing alike. If you are studying Finance, Accounting, Economics, Business, Mathematics or simply interested in building a career in Finance and Risk Management, then join us to find out who we are!
On the day, you will meet our people, discover our opportunities and find out what about a day in the life of Morgan Stanley's Finance and Risk Management departments.
Program
Introduction to Finance and Risk Management
Campus opportunities
Open discussion with our colleagues
Networking
Morgan Stanley is committed to conducting business in accordance with the highest standards of integrity and transparency, and does not intend for this invitation to influence, or provide an unfair advantage regarding, any action or decision by yourself or any other attendee with respect to Morgan Stanley.
In accordance with legal and regulatory requirements, including the U.S. Foreign Corrupt Practices Act, the UK Bribery Act, the Employee Retirement Income Security Act, and other U.S. federal, state and local regulations, Morgan Stanley does not provide its clients or business associates gifts or entertainment that they are not allowed to accept. We recognize that our clients, counterparties and other business associates also have legal obligations and may be subject to specific threshold and reporting requirements. By accepting this invitation you confirm that the above proposal conforms with the laws to which you are subject, as well as your organization's own policies and standards. If you require a confirmation of the total value of this event, or are required to reimburse Morgan Stanley for particular expenditures, please contact us.
Please note that you may subsequently be contacted by Morgan Stanley for additional confirmations regarding the acceptability of particular expenses that we may cover.
To commemorate this event, the Firm may take photographs and/or video that include participants. By accepting this invitation you confirm the following: I hereby grant permission for Morgan Stanley and its affiliates to use, record, reproduce, distribute and display my name, image, photographic likeness, and/or voice in any medium, printed or electronic (including in video form), for marketing materials and coverage relating to this event. I hereby release Morgan Stanley and its affiliates and agents from any and all claims that relate to or arise from any use of the foregoing in such materials and coverage.